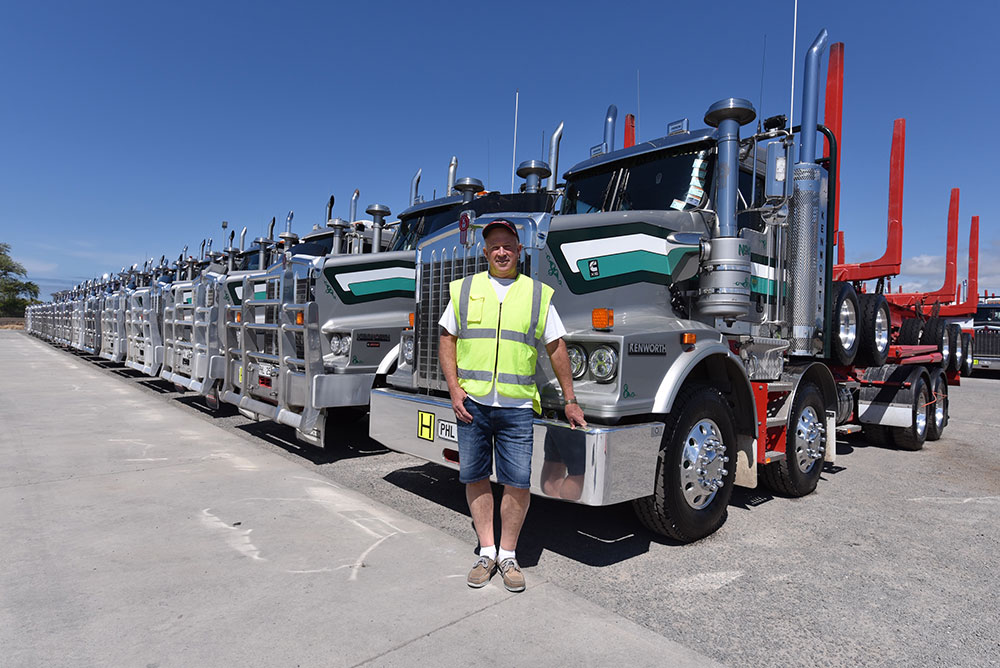 Wilshier honoured for huge contribution to forestry
Warwick Wilshier isn't often lost for words. He's the one that always steps up to speak, comes up with the new ideas and is quick to campaign for causes he believes in – especially if it helps someone else.
But on being told he was being recognised as the inaugural Eastland Wood Council Industry Champion 2019 he was clearly taken aback. True to form, the four decade veteran of the forestry industry – who owns Williams & Wilshier and is in partnership with Calvin Paddon with the company Pacific Haulage – says that while he may be the one named as the recipient of the award, it is really about the "truly professional" team of managers and drivers at those two companies.
"They might look at me every day to make decisions and be the leader, but really what I do is give them the confidence to decide for themselves," he says. "It is truly rewarding when you see a staff member you have employed with no skills turn into a real achiever – their whole approach to the job becomes one of a true professional."
He understands only too well how hard each has worked to get there and as their self-esteem grows, so too does the rest of their world. "It is pretty cool to see them have the confidence to buy their first house. I like to buy them a new lawn mower when they do because you can never afford one with your first mortgage!"
Warwick started as a trainee log truck driver with the New Zealand Forest Service before buying his own truck in 1982. That single truck soon became a fleet as he worked in partnership with other operators. In 2002 with Williams & Wilshier, he started operating in the East Coast forests. Then in 2006 the growing company, fondly known as Willy Willy's, won a new contract with Hikurangi Farm Forests. In 2007 he made the strategic move of buying a shareholding in Pacific Haulage, deciding to concentrate on the Bay of Plenty and East Coast cartage requirements.
Eastland Wood Council Forestry Awards chief judge Sheldon Drummond said Warwick had been "an absolute champion for the great forest industry cartage sector. He is a director and current member of the New Zealand Road Transport Forum which deals with national road transport issues and provides a link to Government while providing methodology to achieve things for the sector. He is a founding member and chairman – for the past 18 years – of the Log Transport Safety Council which is a platform for log transport operators to get together without competitive differences to achieve improvements for the common good of the industry. A prime example had been their work in reducing log truck rollovers which have statistically reduced year on year. The council holds industry meetings across the country, organizes driver training and works to improve the public perceptions of the sector. It leads the way for industry and is recognized by Government as one of the outstanding successes in industry cooperation.
In 2017 Warwick was presented with the Institute of Road Transport Engineers New Zealand outstanding industry achievement award.
"As a log transport business operator, Warwick sets the standard for others to follow," says Sheldon. "He is undoubtedly a leader for his sector of the industry, going out of his way to see national collective improvements on a continuous long term basis."
He had repeatedly shown effort and achievement well above the norm for the East Coast forest industry.
Warwick said he was proud of the work he and the group of fellow log truck operators had done in the Log Truck Safety Council. "Together we lead the way and have turned our industry from one with the highest crash rates, to the lowest," said Warwick. "I enjoy giving time to industry associations where we can make a difference," he says.
But with the highs come the lows. "The bad times for me have been the last year or so where too many people have died on the coast in accidents involving log trucks. It is not about blame, but truck drivers are the professionals and many car drivers are the amateurs. We can do better in making sure these people don't get hurt," he said.
A dire shortage of truck drivers is hindering the industry and he is hopeful that will improve in the not too distant future. The industry had a huge future and he has no intentions of stepping back any time soon.
"It means a great deal to me to be even nominated for the awards," said Warwick. "I have been a supporter of the event since day one and always enjoyed seeing typically quiet achievers publicly recognised for their achievements. For me, it is really nice to be recognised by my peers – and particularly those in the Eastland Wood Council."
Warwick was not on hand to receive his award, but Eastland Wood Council chair Daniel Williams presented it to Williams & Wilshier health and safety manager Dave Pardoe on his behalf.